So, let's face it, I never met a man who was happy about his hair back, have you? Having said this, getting rid of your back hair is one of the trickiest areas to tackle, especially if you're doing this on your own, and that's where the BakBlade comes in.
This bakblade review will show you why it's designed to this job.
Sale
What is the Bakblade?
Ok, so if you landed here because you're looking for reviews of the Bakblade, then chances are that you already know what it is, and therefore you can skip this part. For those of you who were just googling for methods to shave your back hair, then let me introduce you to the concept behind this back-hair-eliminating gadget.
Well, as they say, a picture is worth a thousand words, so here goes.
Check Price and Availability on Amazon
This product is a men's grooming tool, and it is targeted to hairy men. The packaging has a logo with a Gorilla giving a thumbs up with the words, "Escape Your Ape".  So, yes, this product is designed with extremely hairy men in mind.
The BakBlade is a large blade attached to a long plastic handle that enables you to get to those hard-to-reach back hairs and shave them right off. It doesn't require batteries and it can be used in both wet and dry conditions. I used my bakblade in the shower for a smoother and easier shave.
The handle is ergonomically designed for a good grip and maximum reach. It's pretty much shaped like a back-scratcher (after all it uses the same concept) however the bended shape ensures the blade never loses contact with the contours of your body.
The handle can also fold down to half the size with a simple push of a button. This is convenient for storage or if you travel on long trips and would like to take the Bakblade with you.
The blade cartridges are made specifically for the bakblade and can be easily replaced. The cartridge consists of a triple blade head which allows for complete hair removal. The blades themselves  have actually been upgraded when compared to the previous model and can now be used for up to 7 or 8 shaves before they have to be replaced.
At the back of the blade head, it has a scrubbing sponge which one can then use after the shave to wash your back.
This gadget also comes with a wall-mounting accessory that enables you to store it right on your bathroom wall, not that I would recommend it, unless you're hiding it in the shower. Let's face it, this gadget is not much to look at after all.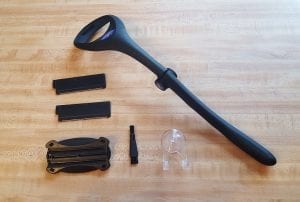 What Comes in the Box
The Bakblade package includes:
Three-cartridge head
Complimentary wall-mount accessory
Three cartridge blades
Blade cleaning brush
BakJacKet Scrubbing Sleeve
The bakblade is 16 inches long and the blade cartridges are just over 3 inches wide. This gives you quite a good cover on every pass of the blade.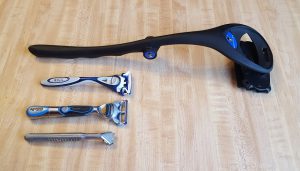 Check Price and Availability on Amazon
Shaving my Back with the Bakblade
First of all, I want to say that even though the manufacturers of the Bakblade claim that it can be used for both wet and dry shaves, in other words you can shave directly on dry skin without soap, I found that a wet shave is probably best. After attempting a dry shave I ended up with razor burn on my back which was quite uncomfortable. So use it with soap or shaving cream, especially if you have sensitive skin.
The handle allowed me to reach around and hit all areas in the back which I wanted to reach and the ergonomic grip ensured I had full control when maneuvering the blade around.
Also, the razor naturally indexes to the contours of your body, no matter the angle of shaving. This is extremely important since it means you don't have to think about where the angle of the blade is and adjust your arm.
In a few words, it did the job very well, leaving me with a smooth, hairless back within a few minutes. I was really impressed also with the DryGlide design since it allows you to apply as much pressure as you're comfortable with, without cutting the skin. So no matter how hard you press and whether you have any skin irregularities, like moles or lumps, the Bakblade will glide over the skin without hurting or scratching.
Recently I also tried something new with this shaver. Since the cartridge head is detachable from the handle, I pooped it off and used it to shave my neck. I was surprised with the results. The Bakblade did a good job of cleaning up my neck.
Pros & Cons of the Bakblade
Pros
DryGlide technology which is extremely safe on the skin.
Blades last for a long time. Unlike regular face blades which usually need to be replaced after 2 or 3 shaves, the bakblade blades can be re-used for up to 8 times.
Can be used to shave both wet and dry, however as mentioned above we suggest that you go for a wet shave, especially if you have sensitive skin.
Comes with a BaKjacKet, a protective cover and back scrubber that can be attached to the bakblade head.
Folds in 2 for comfortable storage.
The hair slides down from the blade and does not get clogged
Easily follows the contours of your shoulders and back which allows for constant contact while shaving.
Can actually be used to shave other areas of your body.
The durable, quality material it is made of should ensure that it lasts for a long time.
Comes with a cleaning brush, and suction hanging bracket.
Cons
The handle could have been made slightly longer in my opinion. In fact, the previous model of the Bakblade had an 18 inch handle.
Same goes for the cartridge width. A wider blade would have made the job that much easier and faster. On the other hand it could make things a bit more difficult for the narrower areas, like the under arms.
Slightly heavy. This could be a compromise for the strong material it is made of, but I noticed that it is not as light as the previous model they had.
Check Price and Availability on Amazon
Extra Tips For Using the Bakblade Shaver
Attach the suction holder in the shower for convenience since you'll probably be using the Bakblade mostly there anyway. It's cleaner and easier to wet shave with this product.
Use short even strokes when shaving your back with the Bakblade and there is no need to go over the same area more than twice.
Try using the blade cartridge separately (ie detached from the handle) to shave other parts of your body, like the chest and abs. It can work really well for shaving these areas without the risk of cutting yourself.
If you buy the Bakblade on amazon I recommend you add the BaKblade 2.0 Six PaK to your basket. This is the most economical Bakblade pack they have on the market and you will save money in the long run as opposed to buying the Four pack.
Clean your Bakblade after every use and do not store it while it is still wet. Use the brush provided in the package to clean the blade cartridges easily from skin cells and any hairs. Slide out the  blade cartridge and clean also the bottom side. This will only take a few extra seconds and will get your Bakblade ready for your next shaving session and leave it in tip-top condition.
Use the back scrubber attachment to clean your back after the shave.
Conclusion
While the Bakblade brand is not one of the most well known brands on the market, they have identified and addressed a problem that many men have, that is, shaving their back on their own.
This Bakblade review has introduced us to a very serious and professional brand and company that has come up with a superior product and we are sure to hear much more from this company in the future, especially if they keep their customers happy as they are doing at the moment.
Sale
This company has made it on our Good list and we look forward to testing other innovative products and solutions it has in the pipeline. In the meantime you can take confidence in knowing that your back is covered by the best back shaver on the market and they have a fantastic ad to go with it … check it out.
Last update on 2022-05-16 / Affiliate links / Images from Amazon Product Advertising API